When it comes to natural materials and their healing properties, pine is known for bringing body and mind into harmony. At Hotel Riml you can experience the benefits of this unique type of wood first hand. The rooms furnished with pine wood not only offer you a cosy ambience, but also numerous health benefits. Immerse yourself in the world of pine and enjoy a relaxing stay at Hotel Riml.
The effect of pine: harmony for body and soul
Pine wood contains valuable essential oils that have a calming and relaxing effect on the body. The scent of stone pine has a positive effect on well-being, can reduce stress and improve sleep. The natural aromatic substances of pine also increase concentration and optimise the quality of the room air.
The feel-good experience in the rooms of the Hotel Riml
The rooms at Hotel Riml are furnished with pine wood and offer a unique feel-good experience. From the ceiling to the floor, the rooms are refined with this wonderful wood. The warm and cosy atmosphere of the pine wood ensures immediate relaxation and invites you to linger. The attention to detail and the high-quality furnishings make your stay an unforgettable experience.
The health benefits of the pine wood furnishings
The pine wood furnishings in the rooms at Hotel Riml offer you numerous health benefits. The calming scent of the pine wood helps to slow down the heartbeat and to come to rest. This makes sleep deeper and more restful. Furthermore, pine wood has an antibacterial effect and can thus contribute to a healthy room climate.
Health and well-being
The Hotel Riml attaches great importance to your health and well-being. The furnishing with pine wood is an important part of this philosophy. You can be sure that every room has been thought out down to the smallest detail to offer you a relaxing and pleasant stay.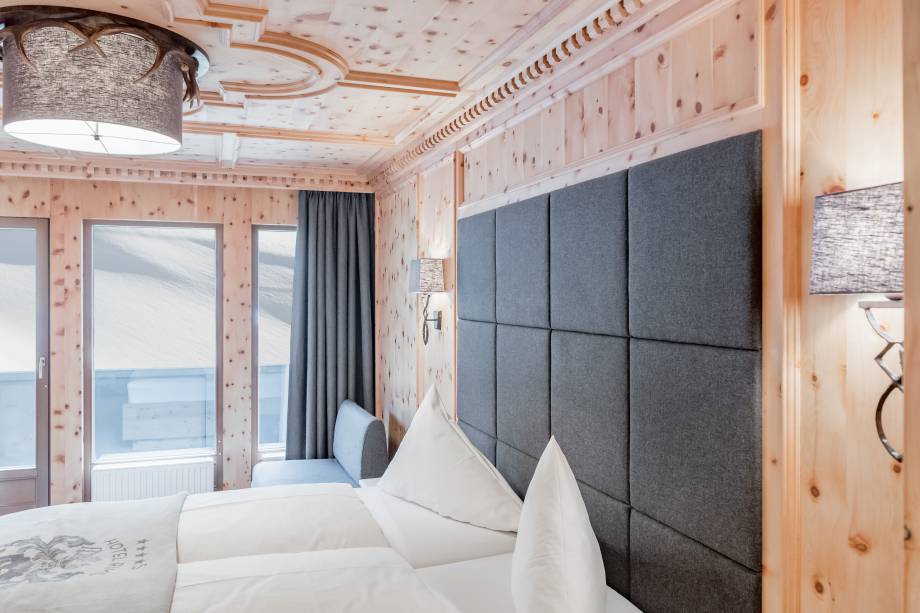 An overnight stay in a room furnished with pine wood at Hotel Riml is not only a treat for the senses, but also a benefit for body and soul. The soothing effect of the pine wood contributes to a restful sleep and deep relaxation. Hotel Riml offers you the opportunity to experience the beneficial effect of pine directly in your room and feel completely at ease. Immerse yourself in the world of pine and enjoy an unforgettable stay in the rooms of the Hotel Riml furnished with pine wood.