Relaxation room in the Alpine Spa:
Our relaxation room in the Alpine Spa has been completely redesigned. It is located above the indoor pool and now shines in new glamour. The beds have been upgraded, a new floor has been laid and general attention has been paid to comfort and relaxation. Our guests can now relax and recharge their batteries in a true oasis of well-being.
Aroma steam bath and event sauna in the Alpine Spa:
To expand our spa offer, a new aroma steam bath and an event sauna with lots of glass were created in the Alpine Spa. This offers our guests even more opportunities to pamper themselves and relax. In the coming winter season, an infusion will probably take place once a day in the event sauna. The showers have also been renewed to provide a pleasant wellness experience.
Gym in new location:
Our gym has found a new, modern location in the hotel - it is now right next to the golf park on the first floor. With high-quality equipment and a fresh ambience, we want to offer our sports-loving guests optimal training opportunities. Here they can work out and keep fit.
Updated golf boxes in the golf park:
We have also updated our golf boxes in the golf park to the latest state of the art. This provides our golfers with state-of-the-art facilities to improve their skills and perfect their swing.
Facelift for the Schermerkar double rooms:
Our popular Schermerkar double rooms have also received a facelift. With a fresh design of new stylish sofas, they now offer our guests even more comfort and cosiness during their stay.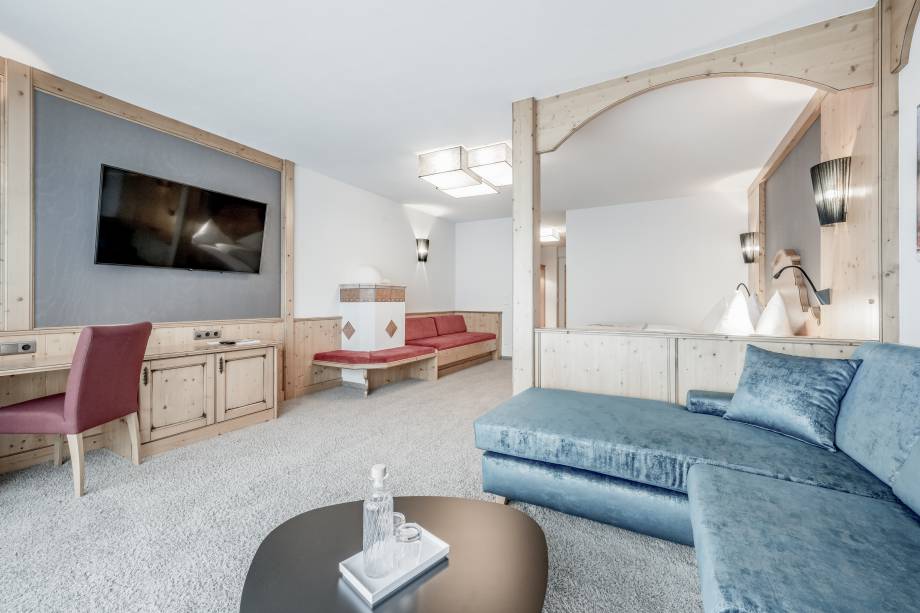 Renovation of the dining room:
Part of our dining room was completely renovated and now includes our new highlight - the Bergkristall Stube. This stylish room is a real eye-catcher and offers our guests a unique atmosphere for dinner. Here you can enjoy our culinary delights in a stylish ambience.
Terrace roof for music and gourmet afternoons:
In order to make our music and gourmet afternoons even more exclusive and weather-independent, our terrace roof has been redesigned. Here our guests can enjoy the fresh mountain air in a stylish ambience and be pampered by live music.
Staff lounge:
There is also something new for our staff. In a new lounge they can relax and regenerate in their free time. After all, satisfied employees are the basis for first-class service for our guests.
We look forward to inspiring our guests with these exciting new features from mid-November at the Skiopening - by then we can also present you with the new pictures or you can take a look for yourself. The conversion and renovation work in summer 2023 will make the Hotel Riml even more attractive and comfortable. We are ready to experience winter together with our guests and create unforgettable memories.
We would like to take this opportunity to thank all the companies involved and our hard-working employees who have played a big part in this!