Gourmet enjoyment at 2,200 meters
Culinary delights make your vacation a success
When you think of a vacation, you think first and foremost of culinary pleasure. A rich and healthy breakfast buffet with freshly brewed coffee and a view of the surrounding Ötztal mountains.
In the afternoon, a buffet with savory dishes and sweet treats awaits you before you head to the Wellness & SPA area. At dinner, you will enjoy. a 5-course menus or theme buffets. The highlight: a magnificent view and excellent service. And don't forget the outstanding bottle of wine! There is something for every taste and occasion here.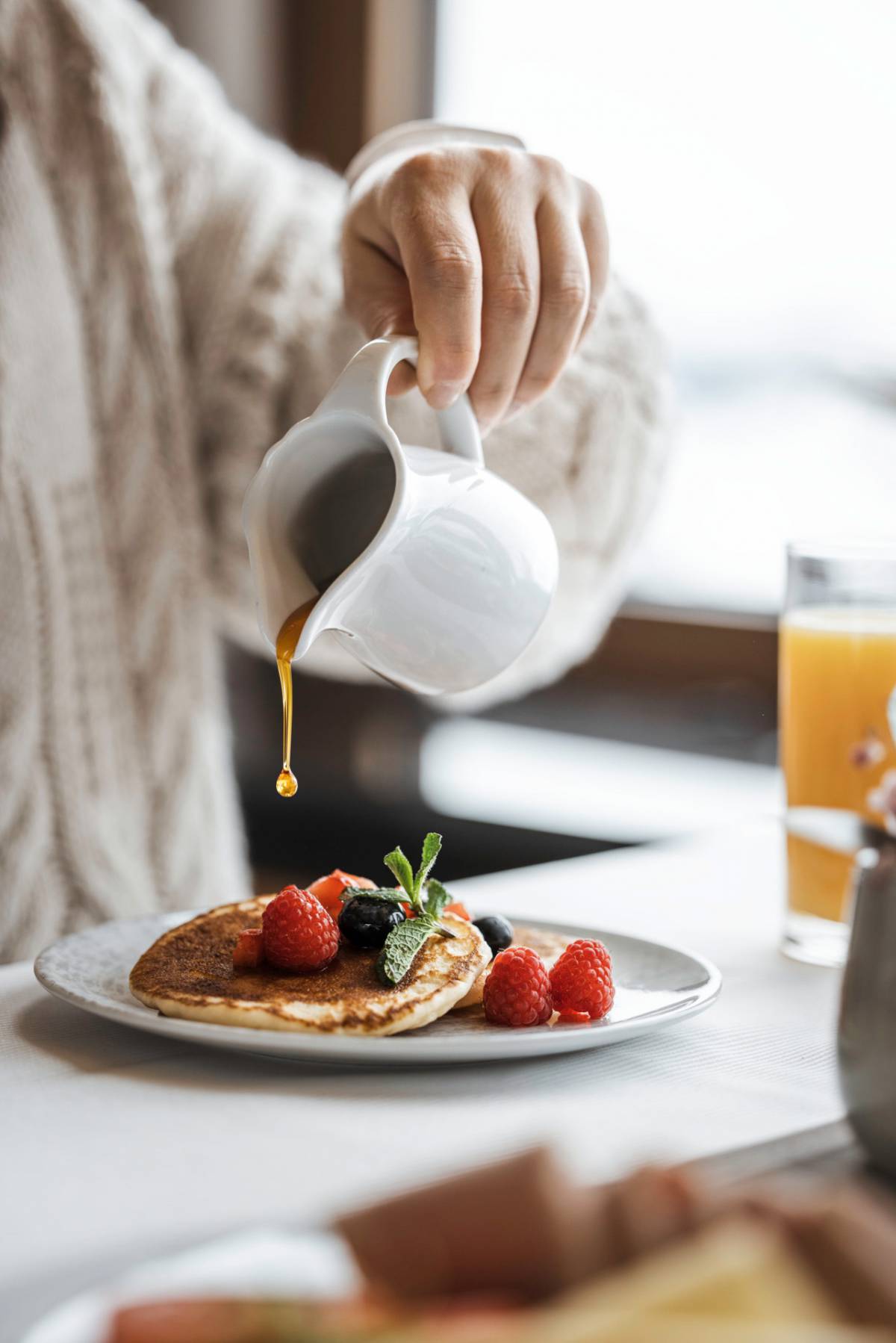 Breakfast
Breakfast
We at Hotel Riml believe that an enjoyable breakfast brings energy and joie de vivre for the day ahead with plenty of mountain adventures. Breakfast lets you start your vacation strengthened and relaxed. Our breakfast is rich in all facets at the buffet and a separate menu, from which you can order dishes á la carte. As always, it is the fine details that make the morning a wonderful experience for our guests. Free-range eggs, crusty bread, and bircher muesli are just as much part of the repertoire as a glass of Prosecco and fresh Wellwasser® water.
Afternoon buffet
Afternoon buffet
After an active and eventful day of vacation we offer our guests a special service for the appetite in between.
In the afternoon, in the time from 02:00 - 04:30 p.m., a buffet with hearty dishes and sweet delicacies awaits you as part of the 3/4 menu board.
Music & Enjoyment
Music & Enjoyment
Twice a week we invite you to the "music & enjoyment afternoon". Our kitchen crew will spoil you  in alternation with creative dishes: from oysters, white sausage or BBQ to different pasta variations and Tyrolean Kaiserschmarren. Experience an exciting & culinary variety. Enjoy the food, the live music and the view of the Tyrolean mountains.
Dinner
Dinner
Our menus in the evening are the synthesis of regional ingredients and local and international delicacies. Our restaurant is a place where the finest cuisine is prepared with love. And freshness, quality, and intense flavors provide a framework that is hard to find elsewhere. Our reputation obliges: We produce as much as possible in-house to ensure  constant high quality. Our refined combination of ingredients creates a special experience for every guest. Our motivated team serves the 5-course menus in our restaurants with an impressive backdrop: the Ötztal mountains. Unforgettable evenings with the best food, good conversations, and excellent wine are guaranteed. It's the perfect way to end a perfect day at Hotel Riml.
Wine list
Wine list
Our wines provide the right accompanying note for every specialty from our kitchen, or as a solo artist at the bar, or even earlier in the day on the sun terrace. Experience a harmony of the finest culinary delicacies paired with a good glass of wine. The extensive wine list has been designed to offer something for every guest, taste, and respective stylistic preference. From fresh peppery Grüner Veltliners to Rieden wines from the Wachau region, to exclusively cuvée matured red wines from the famous vintner Toni Hartl in cooperation with the Riml family, our wine list leaves nothing to be desired.